MARIEKE -"Violet"
14.2hh Dutch bred pony
Graded SPSS Preliminary Stud Book (Unknown Breeding)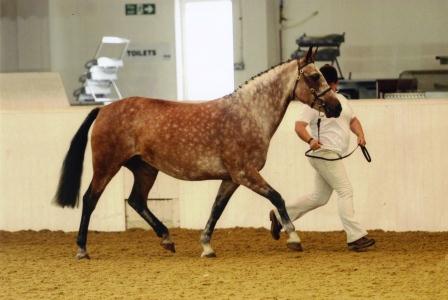 Elite Graded Foal 2012 - Highest Placed Horse Arena UK across all disciplines and ages.
Awarded Brood Mare Diploma by BEF Futurity Scheme x 2
Foal Awarded 3rd Overall Sports Pony Foal BEF 2008
Foal Awarded Reserve Champion SPSS 2008
1st Premium Awarded SPSS
Born 2001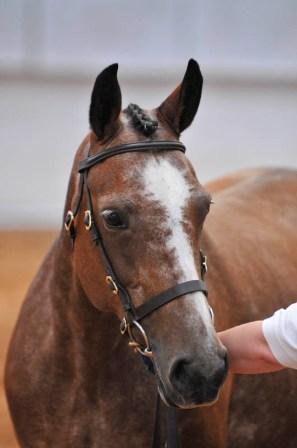 click to go back
Michael Garton http://michaelgarton.jalbum.net
Violet is a good moving pony with a bit of substance about her unfortunately of unknown breeding but we are planning to enquire with her Dutch breeders to how she is bred, unfortunately we were unable to make contact with them. She came to us in 2007 and we produced a superb foal in 2008 by Top Yellow a German Dressage pony who has some fabulous breeding and competition results.
Violet has had a short dressage career gaining some points at Novice Level but we purchased her to use solely as a broodmare. This we have been proved right as her bone and substance with quality has given special input to all her foals, this has been proved with the results they have gained. This is now also passed to her grand daughter who has also proved to be highly thought of through the BEF Futurity.
She was presented at the SPSS Grading on the 13th October 2007 and she graded with a score of 74.7% into the Preliminary Stud Book, due to incomplete breeding. She gained a 3rd Premium with a score of 7.15 in the In Hand Show Potential Brood Mare on the same day.
Violet was awarded a Broodmare Diploma in 2008 from the British Equestrian Federation for her foal Bathleyhills Marranello (Sire: Top Yellow) gaining a First Premium at the Baileys Horse Feeds BEF Futurity and third place Nationally as a sports pony foal.
In 2008 Violet was invited to attend the SPSS Annual Show with her foal Marranello to parade with other youngstock who had acheived superb marks at the BEF Futurities, Marranello was awarded a Certificate of Excellance for her results.
As Violet was at the SPSS 2008 show we decided to present her in the classes. She was awarded 3rd place in the Broodmare class with a 1st Diploma and a score of 80.4% Marranello her foal won the Youngstock class with a 1st Diploma and a score of 89.4%. Violet made it into the Championship on default (via Marranello!) and her foal was awarded Reserve Champion 2008. We were thrilled.
In 2012 Violets colt foal by Bathleyhills Monet was awarded an Elite score with the BEF and was highest horse over all ages and disciplines at Arena UK. Again Violet was awarded a Broodmare Diploma.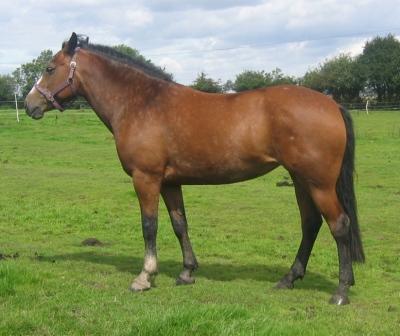 Pics of the grading...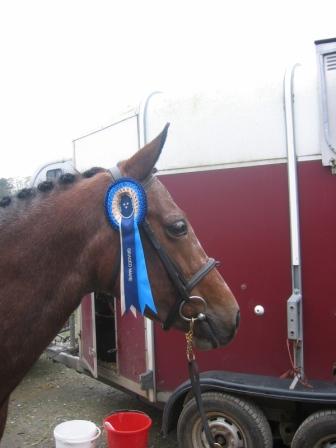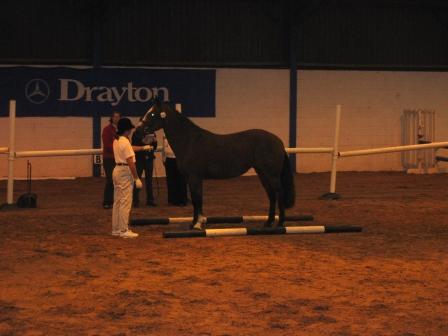 Here Violet is November 2007 out in the field!!!!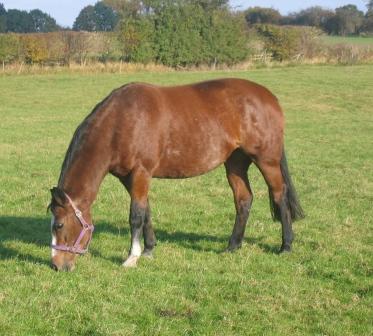 ********************************************************************
Progeny........
Click on picture for details...
Bathleyhills Burglar Bill MAR - James
born 3rd April 2014 (Marieke x Bathleyhills Monet)

Bathleyhills Marquis - Harold

Elite Graded BEF

born 17th June 2012 (Marieke x Bathleyhills Monet)

Bathleyhills Marionette - "Deidre"

3rd Coloured - The British National Foal Show

born 9th June 2011 (Marieke x Sempers Spirit)

For sale

Bathleyhills Marsala - Hazel

1st Premium BEF

born 7th June 2010 (Marieke x Daydream)

***Sold***

Bathleyhills Marranello - "Janet"

Reserve Champion Spss Mare Grading 2010

Awarded Brood Mare Diploma by BEF Futurity Scheme.

born 8th June 2008 (Marieke x Top Yellow)

Backed and will be available on lease shortly.

Produced a fabulous foal 2011 Graded BEF Higher 1st Premium
*********************************************************************