Garuda K
16.2 1/2hh D.O.B 2001
Another tremendous Stallion we have been watching for two years having seen him three times at the Stallion Parades, up to and until 2014. His temperament was amazing and his paces just to die for without mentioning his beautiful looks!!!!! We are absolutely thrilled to have stock in our yard by him.
Trakehner Prix St George Stallion, Graded B.W.B.S. Reserve Champion Stallion 2003. Champion British Equestrian Federation Stallion on Progeny Results 2008. Licenced Westfalian Verband.
Garuda has now successfully started his International F.E.I. Career at Grand Prix and is just proving without doubt his trainability and temperament.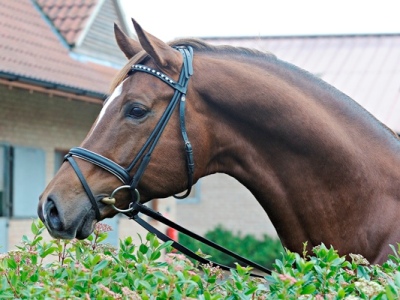 Link to Woodcroft Stud
Elite H. Muenchhausen
Elite H. Hohenstein
Elite H. Caprimond

Helena xiv

Elite. St. Mohnbluete

Koenigstein

Margerite

Gladness B

Elite H. Angard
Elite H. Anduc

St.pr. Gundula

Gladness

Unkensee

Gletschersonne
Garuda K This young Stallions bloodlines are outstanding, with a most exceptional genepool which is proven & consolidated. He has no less than 6 Elite Stallions directly within his breeding. Garuda K is becoming known as the improver, all of his foals are a definate upgrade on the generation before. Garuda K foals are being bought in utero with filly's being very sought after. In 2008, 3 Garuda Youngstock where entered for the BEF Futurity, all 3 were placed in the top 20 in th Country with Grace Kelly & Woodcroft Gonzales becoming Elite & Reserve Champion within there section overall.
By the Champion, Premium & Elite Stallion Muenchhausen, who was Reserve World Champion for young horses in 2003 & was 2nd for the Danish Dressage team in the CHIO Aachen nation's cup 2006 he now winning at Grand Prix, Grand Prix special. E.H Muenchhausen is a highly reputed sire not only within the Trakehner breed, but he is used to influence other Warmblood breeds.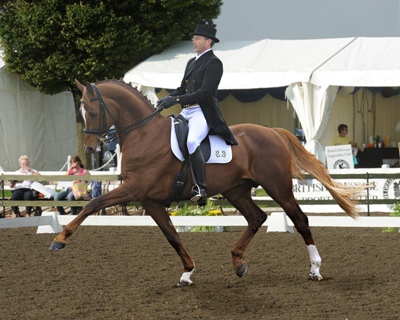 Garuda K's Grandsire E.H Angard is also a Champion & Elite Stallion competing successfully up to Grand Prix level. He is the son of the unforgettable Elite Stallion and Grand Prix star E.H Anduc, renound for his high quality Dressage offspring. Unkensee, sire of Garuda K's granddam is renouned for his exceptional transmission of Trakehner type and outstanding talent for Dressage, his sire E.H Erkonig was also bestowded the title of Elite Stallion due to the exceptional results of his offspring competing to the highest level in Dressage. E.H Muenchhaussen's Sire E.H Hohenstein, is also Premium & Elite Stallion, Trakehner Stallion of the year 2002, also winning at grand Prix.
The roots of Garuda K's damline trace back to the Thoroughbred mare Gletcherfart xx by Prince Rouge xx, a narrow but outstanding competition line & highly proven mare family. E.H Muenchhausen's dam line represents the narrow East Prussian bloodline of Moosebeere 1154, to which the stallions Maursee, Markant as well as the International Showjumpers Marcella and Igor also belong. E.H Muenchhausen's dam Mohnblute was the best 4 year old of her breeding region, her sire Konigstein was is also a Premium Stallion, she furthermore carries the genes of the stallion Arrak, sire of the International & Olympic Dressage horse Merlin.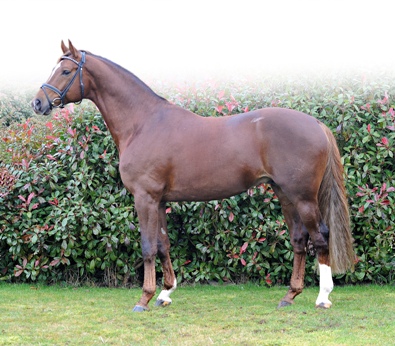 E.H Muenchhausen has produced several graded son's including the Reserve Champion Stallion Garuda K, Austrian Champion Tassilo, Mein Marchenprinz, Maybach,Titiano, Sambatanzer, Meraldik, Moliere & the Premium Stallion Mon Baron he has also produced several Premium graded daughters, St.Pr.U.Pr.St Herzlicht, 3 year old filly sold at Neumunster for Euro 50.000. E.H Muenchhausen's sire E.H Hohenstein is one of the most well known & successful Dressage sires not only within the Trakehner breed but also with the Hannovarian, Oldenburg & Westfalian Studbooks. Hohenstein founded his own branch of his world wide renouned Stallion line of Arongo - Karon - Caprimond. His offspring also fetch top prices, Habitus sold for 320,000DM via the Verden Elite auction as did His Highness selling for a record Euro 515,000, At the Equilibra Auction High fashion sold for £ 85.000.

***********************************************************************