Outside Stallions we used for our 2007 foals....
Foals born 2007
DATE MARE IN FOAL TO
Bridget 19th April 2007 Twiggy Harry
Dennis 28th May 2007 Doris Thursden Vallye Raphael
Annie 5th June 2007 Alice Caesar 171
Albert 18th June 2007 Swallow Caesar 171
Dave 2nd August 2007 Arabella Gleadhill Samson
***********************************************************************
Dennis - Bathleyhills Chocolate Dream
Thursden Vallye Raphael - British Riding Pony
Standing at End House Stud
143cms D.O.B 2003
Licensed NPS and Registered Part Bred Arab (14.6%)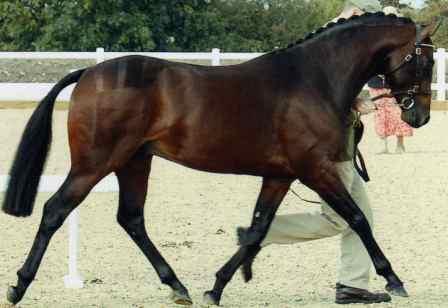 Click for his website
Aimbry Chester
Wadacre Chicko
Atlantus

Rum Moss

Annika
Rastell

Lorina

Berry Rose Dawn Chorus
Yealand Nightowl
Cilwych Frantic

Yealand Dreams

Yealand Vanessa
Botingelle Swansong

Yealand Replica
Thursden Vallye Raphael a striking son of Graded Sports Pony Stallion Aimbry Chester out of a classically bred Yealand Nightowl mare. This elegant bright bay has an exquisite head, fabulous paces and superb temperament. He has taken all the qualities from his fatherís influential warmblood breeding which includes Advanced Dressage Stallion Wadacre Chicko, Ramiro Z, Lady Killer, Rastell and Raimondo and his motherís top class riding pony breeding which includes, Bottingelle Swansong, Bwlch Valentino, Oakley Bubbling Spring and Blueprint.
In 2008 as well as continuing a top level in hand and ridden showing career he will be produced by International rider Lisa Marriott as a Dressage pony, he is already working at elementary level. Won first time out Novice 21 scoring 69.5% and currently has 17 BD points. His long term career plans are to be produced as potential JA and FEI event pony as well as an outstanding ridden show pony, his career potential is unlimited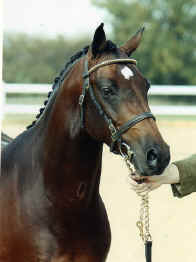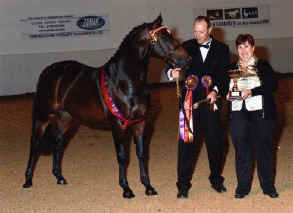 ***********************************************************************
Annie & Albert - Bathleyhills Touch Of Class/Bathleyhills Sea Wurzel
Caesar 171 - German Riding Pony
Standing at Leamside Equestrian
144cm D.O.B 1989
SPSS (Elite) Graded in Germany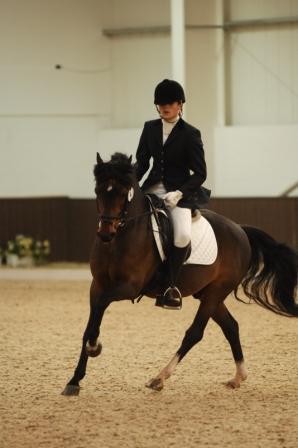 Click for his website
Condor I
Constantin
Whatton Copper Beech

Meerpal Regina

Waldfee
Weingau

Swetlana

Dina
Askan
Arthur O Fon

Bryncynan Shan

Dione
Caid

Deplotina
Caesar is a 13.3hh bay dressage stallion, who stands at Leamside Stud, he was graded in Germany gaining a good score (including two 10s). He was 6th at the Bundeschampionat 1994 at the five-years old dressage ponies. After being imported to the UK, he was Restricted Medium Winter Champion in 2000 ridden by his owner, the Pony Rider, Victoria Molloy. He was then a member of the GB Pony Team that won Silver at the European Championships in Germany in 2000 and the Bronze medal winning team in 2002. In 2003, ridden by Natalie Allen, Caesar was again scoring over 70% in Open Medium and FEI Pony classes.

Below is a history of some of the results from Caesar and Victoria Malloy.
European Team: Bronze and Silver Medal
Hagen CDIOP for two years, gained a 5th, 7th and 10th (I think) Belgium CDIOP individual 5th
Medium Winter Champion Medium
Advanced Medium North West Regional Champion
4th Medium Restricted National Championships
6th Advanced Medium National Championships
Competed advanced Medium Dressage to Music and was in the prize
giving at Frys Premier League.

Caesar has also competed Prix St George however only at HC so as not to gain points. They would have won the class with a percentage over 65%.

At the Irish Europeans they were chosen for a demonstration which is a great honour.

He has such a fantastic temperament and ability to match. When graded he scored two 10s with mostly 9s and then his lowest score being 8. These are remarkable grading results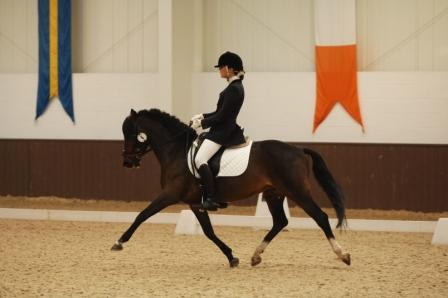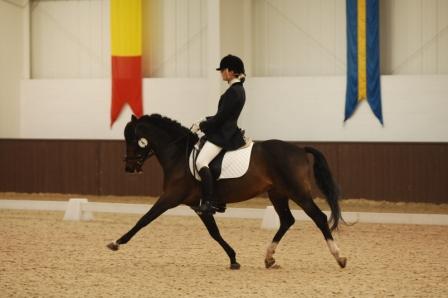 YOUNGSTOCK BY CAESAR

Caesar has produced three children in Germany that are known of. One is the driving pony champion Cholin S. Cholin S was Gold Medal winner in 2006. Another Son Cholin was gelded and although he does not have many foals, one of his daughters (Cassiopeia WE) was elite-auction-pony in the Elite-Auction of the Oldenburger Verband.

Another is Caesar Daughter State Premium Mare Chambaly.

Last year Caesar had two foals in the UK. I Claudius was named Futurity Prefix Registry Champion and his Daughter No Promises out of a Don Primero mare wowed the audience. Both are maturing extremely well with I Claudius being identified as a stallion prospect.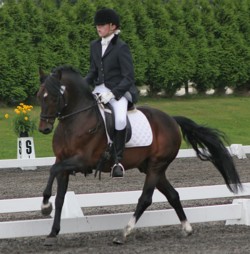 This year he has three foals on the ground , Annie, Albert and the other foal is by Leamside equestrians own SPSS Head Stud Book mare Tiger Lily by Donnerwetter out of Eboli, LE CHIFFRE alias Peanut has the most fantastic temperament and movement and a huge personality with ability. Peanut was identified as a top performance horse when we presented him at the British Futurity Show. Awarded 9.5 for Performance Type, 9.3 for Athleticism, 8.75 for Correctness of Gaits, 8.5 for Conformation and a veterinary inspection of 8. Overall 8.81.
***********************************************************************
Dave - Bathleyhills Aramis
Gleadhill Samson - now sold to Germany.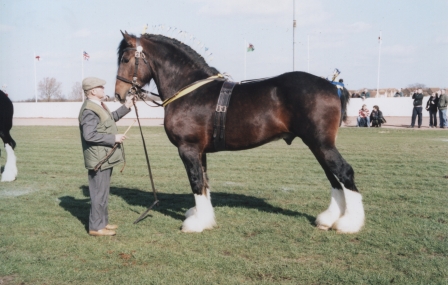 Bay Shire 18HH 2002

Natural service or chilled semen available
Millhouse Deano 1997
Woodside Vicount 90
Ithersay Courage

Edingale Lavinia

Marsh Jane
Clarach Gay Prince

Regis Bess 1994
Blackden Mascot
Edingale Mascot

Blackden Beauty

Regis Lady Elizabeth 85
Parkhead Bengie

Regis Lucky Lady