Outside stallions used for 2009....
Foals due 2009
DATE DUE MARE IN FOAL TO
12th May 2009 Bathleyhills Sea Swift Casino Royale K
14th May 2009 Blaircourt Touchwood Thistledown Copper Lustre
30th May 2009 Mona Casino Royale K
19th June 2009 Chanel V Romeo II
1st June 2009 Loveden Sea Swallow Casino Royale K
2nd July 2009 First Lady Henry
2nd August 2009 Bathleyhills Arabella Thistledown Copper Lustre
***********************************************************************
Silver - Unfortunately has not held in foal.....
Hilkens Black Delight
14.1hh D.O.B 2003
Graded/Licensed: Weser-Ems, SPSS Westphalia, Hannover, Schleswig-Holstein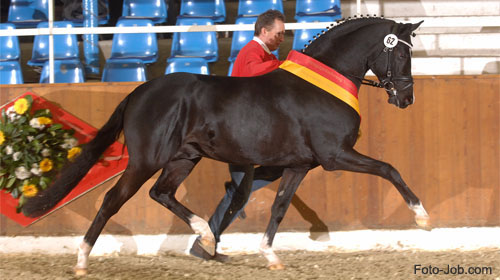 Click on photo above for link to Danica Duen website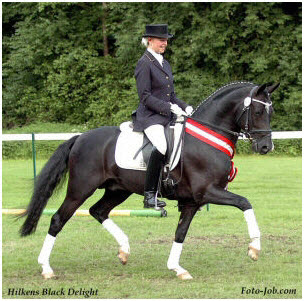 Link to Blackington Stud UK Agent
Branduardi M
Black Boy
Black Grannus

Jadine

Gloria
Valentino

Gina

SPS Syrah
Morbidelli
Mozart II

Susann

SPS Sira
Black Boy

Sharon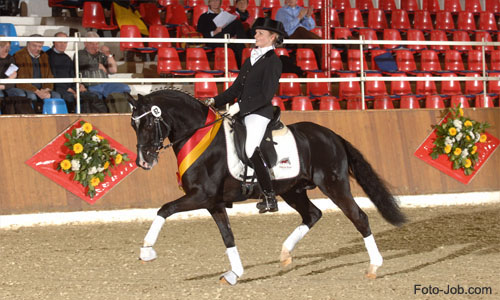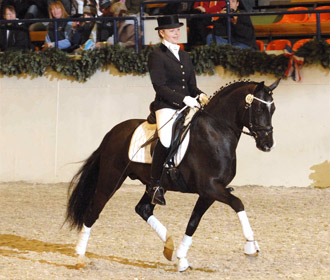 This exquisite young Weser-Ems stallion won the 2005 Weser-Ems licensing and was the first pony ever to be invited to the Oldenburg Stallion Parade, where he received a standing ovation and was described as being " as close to perfection as possible" and the most stunning pony they had seen for at least six years since his sire, Branduardi M, won the licensing. Branduardi M (Black Boy - Valentino - Caid AA), won his performance test (8.85) and later became Vice Bundeschampion and the pony with the highest earnings in sport of all 4 - 6-year-olds at that time in Germany, being successful up to FEI-level dressage and jumping classes level L (about 4'2" ) against ponies and horses.
He was then sold to Denmark, where he immediately became a member of the national pony dressage team, competing successfully all over Europe. Now competing successfully in ridden classes, Black Delight was recently reserve champion in the Berlin National Stallion Show (a very prestigious event held every four years and by invitation only) and Champion Riding Pony at Höven, with an overall score of 8.7 (no score under 8 and three 9s).
Black Delight's dam, St Pr St Syrah and her half-sisters St Pr St Shakyrah and St Pr St Sophie won the Weser-Ems Elite Mare Shows in 2001, 2002 and 2005. Syrah qualified for the Bundeschampionat as a 3, 4 and 6-year-old and was reserve champion of her mare performance test. Sophie was champion of her mare performance test and finished 4th in the finals of the Bundeschampionat 2002. There are many licensed stallions, State Premium mares and successful sport ponies out of this dam line.
Black Delight became Champion 4-year-old Riding Pony at the Oldenburger/Weser-Ems Championships in Rastede in 2007, winning the first round, and beating 34 other ponies with a score of 8.7. In doing so, he qualified for the Bundeschampionat. His first crop of foals are proving to have inherited his superb movement, conformation and temperament. Foals can be registered with Weser-Ems, Hanoverian or Westfalen Studbooks, in addition to the mare's own studbook, and he is now also registered with the SPSS (Sports Pony Studbook Society).

Oldenburger Magazine said this of Black Delight, " The beautiful black stallion enchanted the audience with his type and his spectacular, generous movements which are excellently carried by the hind. He made the audience celebrate him with standing ovations. Over the jump, he shows just the same superior quality. His dam's and sire's line are both loaded with big names and highly successful relatives, among them his ¾ sister, Hilken's Shakyrah, who not only won the Elite Mare Show in Vechta, but also the class of the three year olds at the national mare show in Warendorf this year."
2007 he won the stallion performance test in Neustadt/Dosse with a score of 8.71:
- Interieur 9.0
- Trot 9.25
- Gallop 8.88
- Walk 7.25
- Riding 9.03

Also his sports successes pleads for him, among others the title "Oldenburger Landeschampion"
of the 4 years old ponys in Rastede (score of 8.8),
winner of the "Oldenburger-Münsterland-Championship" and winner of the riding pony championship in Höven with a score of 8.7.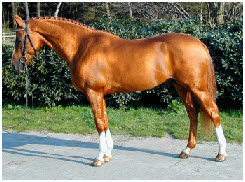 Sire: Branduardi M

His sire Branduardi M, winner of his licensing, winner of the stallion performance test and
Vice-"Bundeschampion" of the 3 years old stallions, is very successfully as a FEI dressage pony in the USA.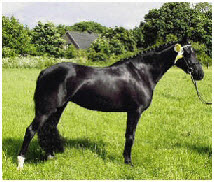 Dam: SPS Syrah

The dam St.Pr.St. Syrah, Weser-Ems winner mare, is out of the successfully stock of St.Pr.St. Sira.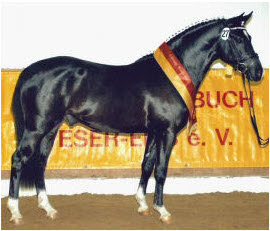 Hilken's Black Delight Stallion Performance Test Champion ...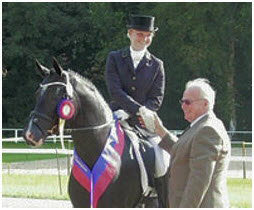 Hilken's Black Delight became Stallion Performance Test Champion (30-day test) in Neustadt Dosse with a final score of 8.71. His individual scores were: Conformation 9, Trot 9.25, Canter 8.88, Walk 7.25, Rideability 9.03, Jumping 8.46, Cross Country 8.50.
***********************************************************************
Bathleyhills Sea Swift, Loveden Sea Swallow & Mona
Casino Royale K
English Agent at Blackington Stud
148cms D.O.B 2005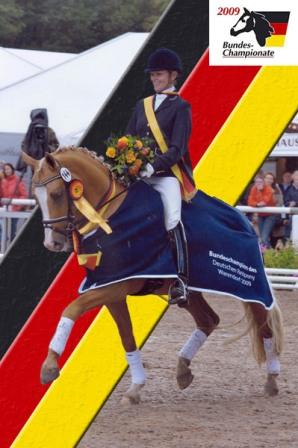 Bundeschampionate two years running, 2009 and 2010!!!! What an achievement!!!!
Graded/Licensed: Weser-Ems Stallion Licensing Champion 2007, Westphalia, Hannover, Schleswig-Holstein
Click Below for Danica Duen Website.........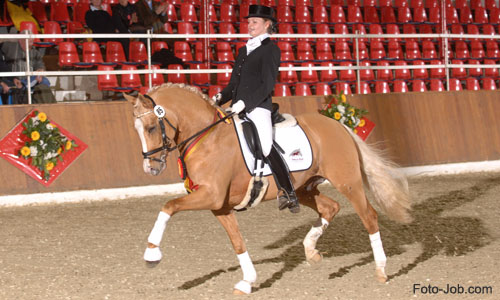 Click on photo below for link to you tube video.......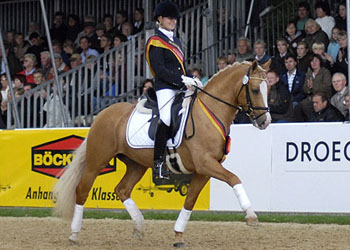 Click Photo below to link to Blackington Stud - UK Agent below....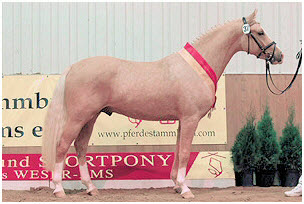 FS Champion De Luxe

FS Cocky Dundee
Cocky Dundas

Bloklands Sheila

FS Golden Fleur
Golden Dancer B

Petit Fleur

St Pr St Raffaela K
Top Nonstop

Nantano

Lolita

Rosepark Prelude
Centurion Torreador

Biriery Lady Mac
Click on photo below for link to you tube video.......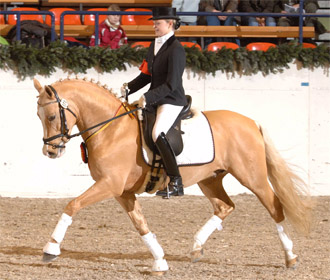 Casino Royale became the Weser-Ems Stallion Licensing Champion in 2007, with a standing ovation from the audience. He received high praise from the licensing committee for his very good type and excellent paces, especially his "spectacularly impressive trot". This superb young stallion again demonstrated his quality by becoming Champion of the 3-year-old Riding Pony Stallion class at the Bundeschampionate held in September 2008.

His sire, FS Champion de Luxe, needs little introduction. He was licensing and performance test champion (receiving four 10s), double Bundeschampion, three times Federal Stallion Show winner, and is a Federal Premium Stallion. Casino Royale's dam, State Premium Mare Raffaela K, was champion mare in Weser-Ems in 2000 and German Mare Show Champion 2000.
Casino Royale is full brother to the State Premium candidate Rapsody K, the licensed stallion Cream de Luxe, and the top priced foal at the first Elite Pony Sale in Germany in 2007, Rolanda K.
His granddam, Elite mare Rosepark Prelude, is dam of Black Bianco K and Basalt K, who were placed at the Bundeschampionat. Basalt K won the silver medal at the European Championships with the Dutch dressage team. Rosepark Prelude is also the dam of the State Premium Mares Roxana K and Rosenna K, as well as of the licensed stallion Bon Jovi, who was sold to the US through the Vechta elite auction.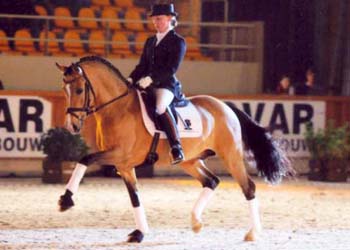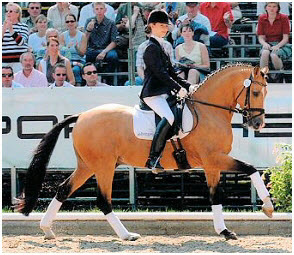 Sire: Champion De Luxe
His sire FS Champion De Luxe, winner of the stallion performance test, winner stallion and double "Bundeschampion" with highest scores.
Has has produced top progeny, among others a lot of licensed sons and successful sport ponies.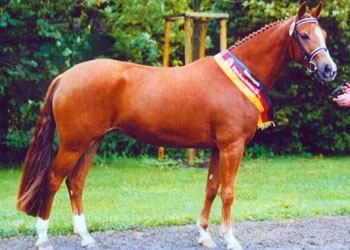 Dam: St Pr St Raffaela K
His dam St.Pr.St. Raffaela K is winner of the Elite mares show in Vechta and national winner mare in Aachen.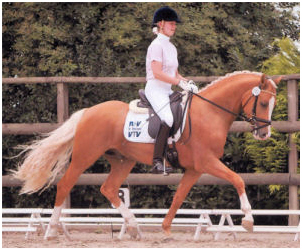 Casino Royale K was Champion of the three-year-old Riding Pony Stallion class at the Bundeschampionate in September 2008.
To Update, Casino Royale K was Champion of the four year old Riding Pony Stallion class at the Bundeschampionate in September 2009.
This prestigious award is hard-earned, involving three rounds of competition, in the final phase of which the top three ponies are ridden by two professional guest riders.
***********************************************************************
Chanel V -
Romeo II
Standing at Brook House Farm
16.1hh D.O.B. 2004
Bay Tobiano Sports Horse
Registered: CHAPS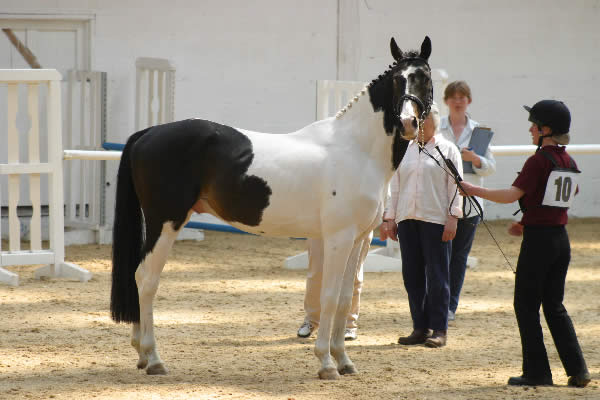 Click Photo above for link to website..
Orlando

Oberon
Oleander

Juniper

Jacaranda
Oleander

Marijke

Environment Friend

Cozzene

Water Woo

Esilam
Frimley Park

Malise
Romeo II is a stunning looking young sports horse, who will be presented to grading hopefully in 2009 with the Chaps Register.
He is lightly competing in dressage, show jumping and cross country now as a young horse and we believe he has the potential to go on and be very successful in which ever discipline.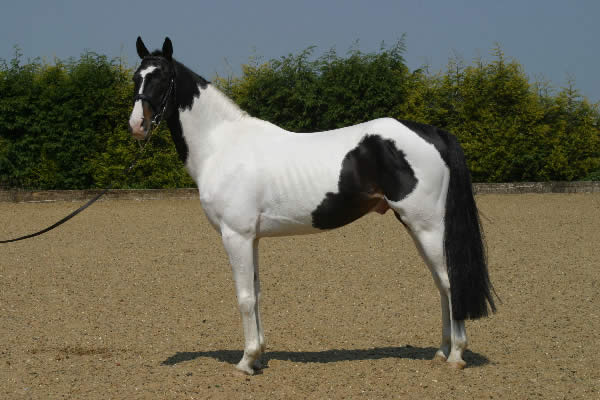 He has the most exceptional bloodlines which we believe will cross most fabulously with our Head Stud Book Graded Sports Horse Chanel V.
The Progency he has on the floor have the most fantastic movement and conformation as well as temperament.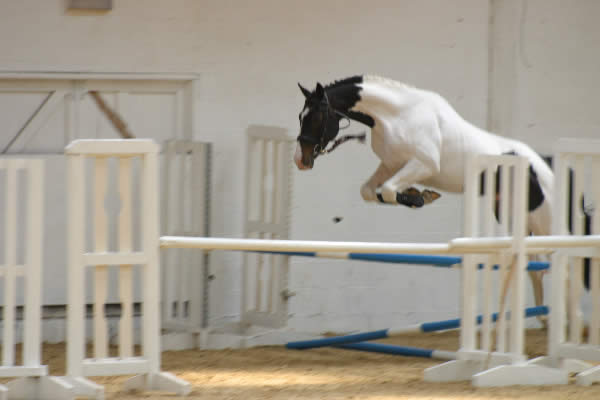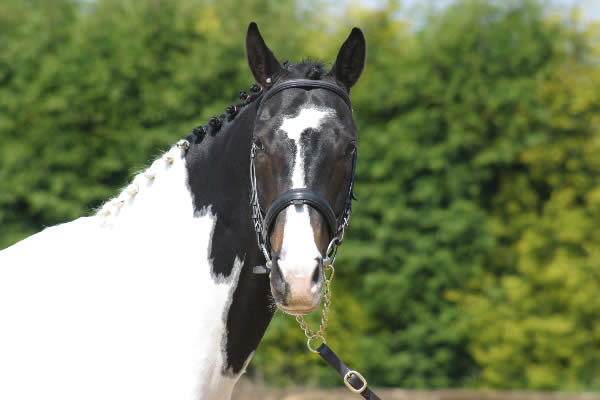 ***********************************************************************