Outside stallions used for 2010....
Foals due 2010
DATE DUE MARE IN FOAL TO
14th March 2010 Juswith Sindoor Don Ricoss
4th April 2010 Lucrative Perk Putra Sandhurst
11th May 2010 Bathleyhills Sea Swift Casino Royale K
15th May 2010 Silver Garuda K
26th May 2010 Blaircourt Touchwood Top Yellow
30th May 2010 Mona FS Dont Worry
7th June 2010 Marieke Daydream
8th July 2010 First Lady Daydream
16th July 2010 Bathleyhills Arabella Daydream
17th July 2010 Chanel V Simply The Best
***********************************************************************
Juswith Sindoor
Don Ricoss
16.2hh D.O.B 2002
We were very lucky to meet this fabulous stallion on our trip to Germany in 2008, his temperament and manners were to dream about.
Graded/Licensed: Approved Hanoverian, Westfalen, Rheinland, all South German Verbands, KWPN (Reg A), BWBS & Selle Français (FSFB).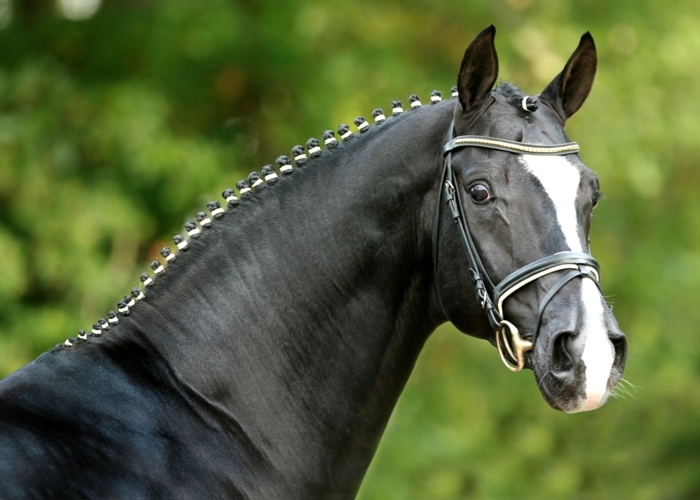 FLAX LION STUD - Click for Website
Don Frederico
Donnerhall
Donnerwetter

Ninette

Cleopatra

Consul Trak

Gatsby

Windröschen

Weltmeyer
World Cup I

Anka

St. Pr. Erina

Eiger I

St. Pr. Palmröschen
Don Ricoss is a modern young dressage stallion, equipped with three first-class paces and an outstanding character & attitude to work.
He was 30 day Test Champion (Neustadt- Dosse) with a dressage index of 8.84 & was the ONLY 3 year old to get marks of greater than 9.0 for both trot and canter, out of 309 3 year olds tested in 2005.
Test riders scores:
Trot 9.25
Canter 9.75
Walk 8.0
His average scores were:
Trot 9.13
Canter 9.38
Walk 8
Rideability 8.75
Interieur 8.75
Competition successes include:
Champion 3 year old Elmlohe - Score : 8,8 - highest mark of all 3 and 4 year olds. Scores included 9.0 trot, 9.5 canter, 8.5 Walk, 8.5 Suppleness, 9.0 Rideability
Vice Champion 3yr old Hanoverian Stallion at World Young Horse Championships Verden.
Vice Champion 4 yr old CDN Verden
Nominated for the World Championships - 5 yr old
3 x Bundeschampionat Qualifyer.
His first class talents have given him several wins & high placings in L & M level (Adv Medium), with scores up to 8,8 including at the International Competition in Elmlohe.
His foals have shown to have inherited his elegance & 3 very good paces & have been very successful at foal shows in the UK , France & Germany taking Champion & Vice Champion titles, as well as several top placings.
In 2009 his progeny have ranked him 2nd in the BEF end of year Dressage Sire rankings, with 100% First Premium foals for the second year.
His yearling colt Don Rolieto gained a BEF Elite Premium & was the joint highest scoring dressage horse of the day of all age groups at Plumpton.
In 2008 he had 100% BEF 1st Premium foals with 2 qualifying for the BEF Elite Championship - SFS Dante Inferno was Champion Dressage foal & Overall Dressage Reserve Champion & Don Rolieto placed 3rd - Dressage foal.
At the 2008 BHHS Championship show his foals won Champion filly foal ( Diorissima) & Champion yearling filly ( Donna Walina) as well as all the others being placed.
Bloodlines
Don Ricoss' sire Don Frederico was Champion of the Hanoverian licensing in 1999. In his performance test he was Overall Vice Champion with a score of 141.04 & Champion of the Dressage, with an outstanding score of 151.67. He is currently the sire of 20 licensed sons & 111 State Premium mares & in 2008 had a breeding index of 160 with 98% reliability.
Windröschen is by the legendary stallion Weltmeyer, who is a multiple champion - stallion licensing, performance test, Bundeschampionat as well as the prestigeous DLG show.
He has sired more than 100 approved stallions, 250 State Premium mares, 11 Bundeschampions, performance test winners & an outstanding 148 successful advanced level dressage horses, including Olympic gold medal winner Weltall and World Cup winner Warum Nicht, along with Weserperle S, Wie Weltmeyer & Vincent.
Grand Dam State Premium Erina, by Eiger I, produced the licensed dressage stallion Wallstreet Kid (by Warkant, USA) and his full sister Windsor Queen, who is the dam of Advanced level licensed dressage stallions Will Be (by Wittinger) and the Licensing and Bundeschampionat Champion Londonderry - the latter is currently considered to be a foundation sire.
Another Erina grandaughter Lawalda (Lauries Crusador xx/ Warnet) was sold at the 2006 Verden Elite Foal Auction for 65.000 Euros & her full brother Londondance who licensed as a Premium Hanoverian stallion & sold to Holland.
Eiger I Hanoverian Stallion of 1999, was known to pass on his type, correct conformation and very good rideability to his offspring. Very often they are talented for both jumping and dressage. Empire, ridden by Dr. Martina Fincke has won over 85,000 DM in dressage at Grand Prix level. His progeny include team World Champion Esprit FRH (ridden by Lars Nieberg) and Easy Jumper ridden by Jos Lansink . Another son Espri was also awarded Hanoverian stallion of the Year.This dam line, is grounded in the Holsteiner Family 8116 & also produced the licensed stallion Amoural (Pb, Rhineland Pfalz-Saar) and Dante Alighieri (AUT).
*************************************************************************
Violet -
Top Yellow - Westfalian
Standing at Wood Family Stud
148cms D.O.B 2/5/1993
Graded: SPSS(elite)
Breeder: Johan Hinnemann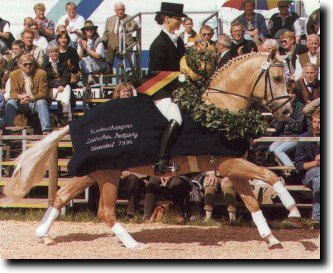 Link to Wood Family Stud

Till the Champ
Rosedale Tiberius
Tanlan Julius Caesar

Arctic Pearl of Rosedale

Konsequenz
Kinsholme Robin

Freundin

Kaprice
Kirby Cane
Kirby Cane Sundog

Kirby Cane Bracelet

Gescha
Gromet

El Leila
Top Yellow is Europe's most famous pony Stallion. Bred and produced by the noted Dressage trainer Johann Hinnemann, Top Yellow holds the record for the highest score ever awarded to an approved pony stallion, 21 points ahead of the number 2.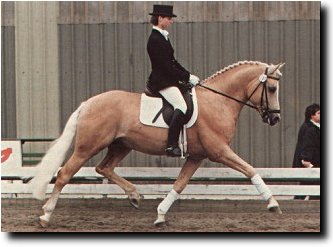 This exquisite pony received no score under an 8.5 and even achieved a 9.5 for walk an 8.5 for trot and a 9.0 on canter proving him to be a talented pony for potential breeding success. Top Yellow won the bundeschampionate (championship for young pony stallions) in 1996 and 1997 and quickly became the one to watch. In 1998 under European champion Delphine Meiresonne, Top Yellow began his FEI career. In that year they became Guelders champion at elementary level in Holland before dominating the Dutch pony rider's scene. He shone at CDI-P Hagen when he won the consolation test. In 2000 Top Yellow was sold to Austria where he competed up to national level. He now stands in the U.K and has competed at pony FEI and at Medium level gaining scores under Samantha Wood of over 70% proving he is a talented palomino stallion and a great friend.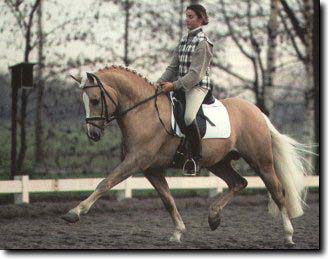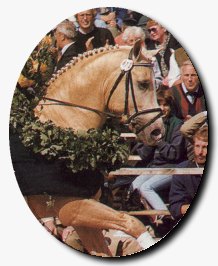 *************************************************************************
Baby Hoss - unfortunately Baby Hoss has not held in foal but a repeat breeding will be done for 2011
UCS Sempers Spirit
16.1hh D.O.B. 2003
We met this lovely stallion at the Stallion Parade held at Arena UK 2009.
Fully Graded Sporthorse with CHAPS UK
Homozygous Tobiano and Homozygous Black
Reg ZFDP/CHAPS 16.1hh
Tested Homozygous for the tobiano gene at the University of Kentucky.
As a foal he was DPZV Foal Champion with a great score of 8.42.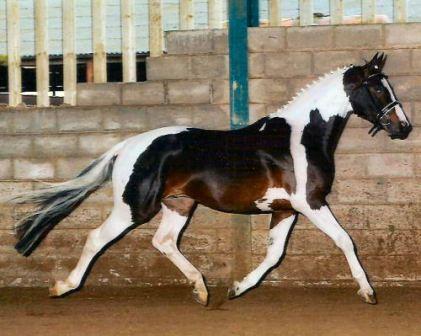 Click for UCS website
Semper
Sandro
Sacramento Song

Duerte

Imago

Samber

Ruth

Aleska

Astek
Alarm

Amazonka

Watona

Watzmann

Dublona
He has a very nice length of neck, with a really good shoulder, very off the floor, elevated paces with a powerful backend, he has a great attitude and temperament, he is a very trainable horse to ride and learns very quickly.
His sire Semper is a very influential Oldenburg approved pinto stallion in Germany, he is by Sandro, the Holsteiner stallion who is also the sire of Sandro Song and grandsire of Sandro Hit. Sandro has a total of 36 approved sons, 308 approved mares, and 27 states premium mares.
Semper's dam Imago is an Elite Preferent rated KWPN mare, by Samber the world's most influential and successful pinto Warmblood of all time. Semper is also the sire of Liz Hall's homozygous stallion Sempatico. Spirits dam Aleska was competed successfully at dressage and is now in Holland continuing her success, she is also a great jumper.
Her sire Astek homozygous polish warmblood was Approved in Germany by the ZfDP Selected as a breeding stallion at Medingen, Germany 1989 Performance tested in 1992 he is very noticeable in German pinto bloodlines. Aleska's Dam Watona is by Watzmann, for a time he was the most-asked-for producer of jumping horses in Hannover. Watzmann is the sire of Walzerkönig, an Olympic Gold Medalist in showjumping for the German team in Seoul.
February 2007 Spirit attended the CHAPS UK grading and got fully Graded as a Sporthorse in the Dressage section, the judges felt he had matured well and he got some great positive comments he is at present the only stallion to be fully graded as a dressage stallion under the new system.
Spirit Successfully took part in the Northern Ireland loose jumping Finals in 2006 where he came 11th out of over 350 horses.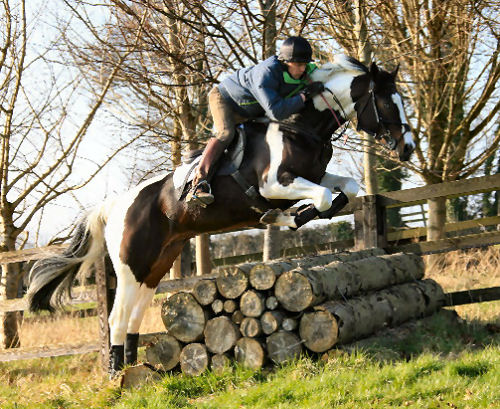 *************************************************************************
Silver
Garuda K
16.2 1/2hh D.O.B 2001
Another tremendous Stallion we have been watching for two years having seen him twice at the Stallion Parades. His temperament was amazing and his paces just to die for without mentioning his beautiful looks!!!!! We are absolutely thrilled to have a foal due by him.
Trakehner Prix St George Stallion, Graded B.W.B.S. Reserve Champion Stallion 2003. Champion British Equestrian Federation Stallion on Progeny Results 2008. Licenced Westfalian Verband.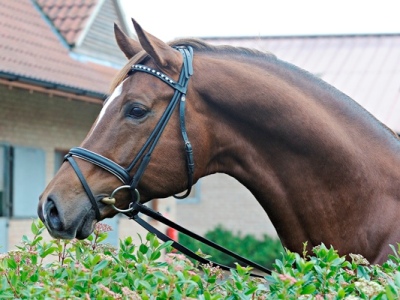 Link to Woodcroft Stud
Elite H. Muenchhausen
Elite H. Hohenstein
Elite H. Caprimond

Helena xiv

Elite. St. Mohnbluete

Koenigstein

Margerite

Gladness B

Elite H. Angard
Elite H. Anduc

St.pr. Gundula

Gladness

Unkensee

Gletschersonne
Garuda K This young Stallions bloodlines are outstanding, with a most exceptional genepool which is proven & consolidated. He has no less than 6 Elite Stallions directly within his breeding. Garuda K is becoming known as the improver, all of his foals are a definate upgrade on the generation before. Garuda K foals are being bought in utero with filly's being very sought after. In 2008, 3 Garuda Youngstock where entered for the BEF Futurity, all 3 were placed in the top 20 in th Country with Grace Kelly & Woodcroft Gonzales becoming Elite & Reserve Champion within there section overall.
By the Champion, Premium & Elite Stallion Muenchhausen, who was Reserve World Champion for young horses in 2003 & was 2nd for the Danish Dressage team in the CHIO Aachen nation's cup 2006 he now winning at Grand Prix, Grand Prix special. E.H Muenchhausen is a highly reputed sire not only within the Trakehner breed, but he is used to influence other Warmblood breeds.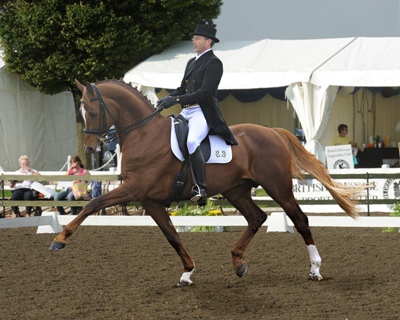 Garuda K's Grandsire E.H Angard is also a Champion & Elite Stallion competing successfully up to Grand Prix level. He is the son of the unforgettable Elite Stallion and Grand Prix star E.H Anduc, renound for his high quality Dressage offspring. Unkensee, sire of Garuda K's granddam is renouned for his exceptional transmission of Trakehner type and outstanding talent for Dressage, his sire E.H Erkonig was also bestowded the title of Elite Stallion due to the exceptional results of his offspring competing to the highest level in Dressage. E.H Muenchhaussen's Sire E.H Hohenstein, is also Premium & Elite Stallion, Trakehner Stallion of the year 2002, also winning at grand Prix.
The roots of Garuda K's damline trace back to the Thoroughbred mare Gletcherfart xx by Prince Rouge xx, a narrow but outstanding competition line & highly proven mare family. E.H Muenchhausen's dam line represents the narrow East Prussian bloodline of Moosebeere 1154, to which the stallions Maursee, Markant as well as the International Showjumpers Marcella and Igor also belong. E.H Muenchhausen's dam Mohnblute was the best 4 year old of her breeding region, her sire Konigstein was is also a Premium Stallion, she furthermore carries the genes of the stallion Arrak, sire of the International & Olympic Dressage horse Merlin.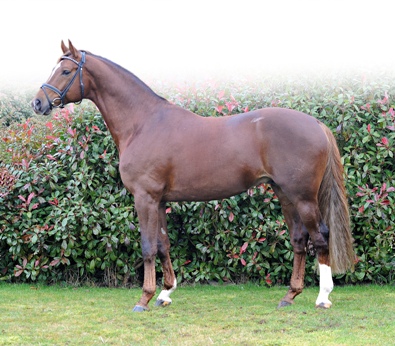 E.H Muenchhausen has produced several graded son's including the Reserve Champion Stallion Garuda K, Austrian Champion Tassilo, Mein Marchenprinz, Maybach,Titiano, Sambatanzer, Meraldik, Moliere & the Premium Stallion Mon Baron he has also produced several Premium graded daughters, St.Pr.U.Pr.St Herzlicht, 3 year old filly sold at Neumunster for Euro 50.000. E.H Muenchhausen's sire E.H Hohenstein is one of the most well known & successful Dressage sires not only within the Trakehner breed but also with the Hannovarian, Oldenburg & Westfalian Studbooks. Hohenstein founded his own branch of his world wide renouned Stallion line of Arongo - Karon - Caprimond. His offspring also fetch top prices, Habitus sold for 320,000DM via the Verden Elite auction as did His Highness selling for a record Euro 515,000, At the Equilibra Auction High fashion sold for £ 85.000.

*************************************************************************
Bathleyhills Sea Swift
Casino Royale K
English Agent at Blackington Stud
Another Fabulous Stallion we met on our visit to Germany 2008. As well as being a successful competition sports pony stallion, he has the most amazing temperament for a childs pony.
148cms D.O.B 2005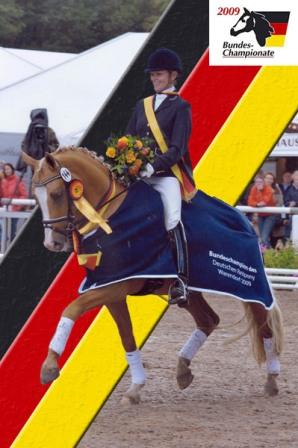 Bundeschampionate two years running.
Graded/Licensed: Weser-Ems Stallion Licensing Champion 2007, Westphalia, Hannover, Schleswig-Holstein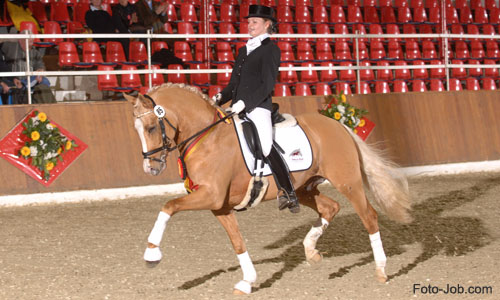 Click on photo above to Danica Duen Website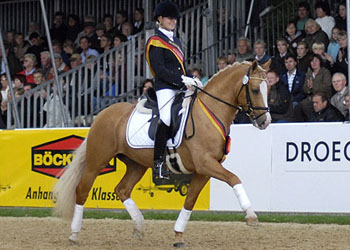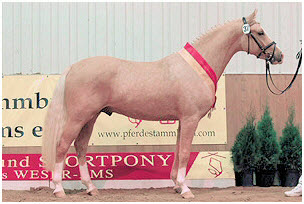 Link to Blackington Stud UK Agent
FS Champion De Luxe

FS Cocky Dundee
Cocky Dundas

Bloklands Sheila

FS Golden Fleur
Golden Dancer B

Petit Fleur

St Pr St Raffaela K
Top Nonstop

Nantano

Lolita

Rosepark Prelude
Centurion Torreador

Biriery Lady Mac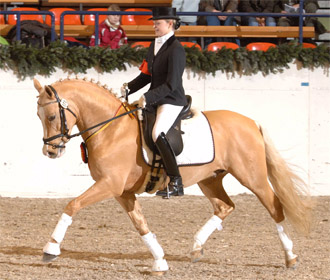 Casino Royale became the Weser-Ems Stallion Licensing Champion in 2007, with a standing ovation from the audience. He received high praise from the licensing committee for his very good type and excellent paces, especially his "spectacularly impressive trot". This superb young stallion again demonstrated his quality by becoming Champion of the 3-year-old Riding Pony Stallion class at the Bundeschampionate held in September 2008.

His sire, FS Champion de Luxe, needs little introduction. He was licensing and performance test champion (receiving four 10s), double Bundeschampion, three times Federal Stallion Show winner, and is a Federal Premium Stallion. Casino Royale's dam, State Premium Mare Raffaela K, was champion mare in Weser-Ems in 2000 and German Mare Show Champion 2000.
Casino Royale is full brother to the State Premium candidate Rapsody K, the licensed stallion Cream de Luxe, and the top priced foal at the first Elite Pony Sale in Germany in 2007, Rolanda K.
His granddam, Elite mare Rosepark Prelude, is dam of Black Bianco K and Basalt K, who were placed at the Bundeschampionat. Basalt K won the silver medal at the European Championships with the Dutch dressage team. Rosepark Prelude is also the dam of the State Premium Mares Roxana K and Rosenna K, as well as of the licensed stallion Bon Jovi, who was sold to the US through the Vechta elite auction.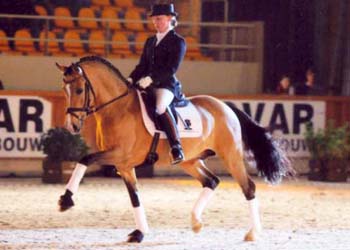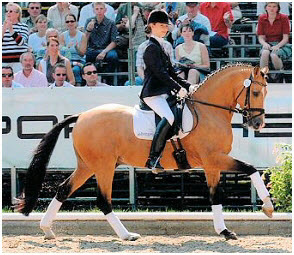 Sire: Champion De Luxe
His sire FS Champion De Luxe, winner of the stallion performance test, winner stallion and double "Bundeschampion" with highest scores.
Has has produced top progeny, among others a lot of licensed sons and successful sport ponies.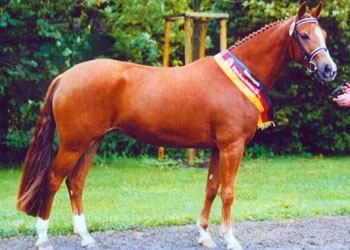 Dam: St Pr St Raffaela K
His dam St.Pr.St. Raffaela K is winner of the Elite mares show in Vechta and national winner mare in Aachen.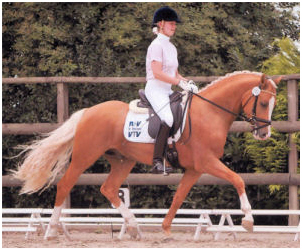 Casino Royale K was Champion of the three-year-old Riding Pony Stallion class at the Bundeschampionate in September 2008.
Casino Royale K was Champion of the four year old Riding Pony Stallion class at the Bundeschampionate in September 2009
This prestigious award is hard-earned, involving three rounds of competition, in the final phase of which the top three ponies are ridden by two professional guest riders, to win it two years running is an incredible feat!!!!!
***********************************************************************
Mona
F.S. Dont Worry
German Riding Pony
14.2hh D.O.B 1995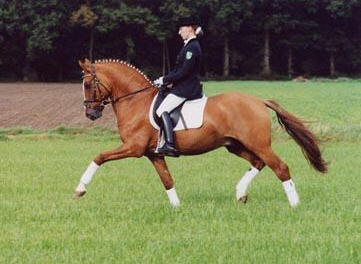 Click for FS Dont Worry
FS Dacapo Doro
Derano Gold
Derano

Viktoria

Karina
Downland Chorister

Ella

FS Golden Sunlight
Golden Dancer
Dancer

Golden Charm

Eileen
Black Magic

Heidi
FS Don't Worry is one of Germany's most outstanding pony stallions. He was reserve champion of the riding pony koering in Aachen in 1998, the same year he won the NRW riding pony Championship for the first time, and which he repeated in 1999. Don't Worry won the Bundeschampionat for riding ponies in 1998 and 1999, receiving six perfect 10's! He won his stallion test in Muenster-Handorf, and has multiple wins in dressage in M and S classes, Intermediar I and Prix St. George. Don't Worry won a bronze medal in the Rhein championships and was fifth in the German junior championship under Miriam Licinio. His sire, Dacapo Doro, won at Hickstead and grandsire Derano Gold was European champion. Dam, Golden Sunlight, is a Bundeschampion.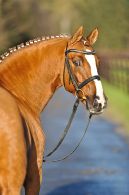 Some of Don't Worry's notable gets include 2001 koering champion Daily Hero, 2002 federal champion Dark Magic, 2002 federal champion Don't Forget, 2003/2004/2005 federal champions Dinarion, HB Dreamgirl, HB Daylight, HB Golden Girl, Don't Thatch. At the 2002 riding pony koering, the top five ponies were by Don't Worry. In short, he has too many outstanding offspring to list!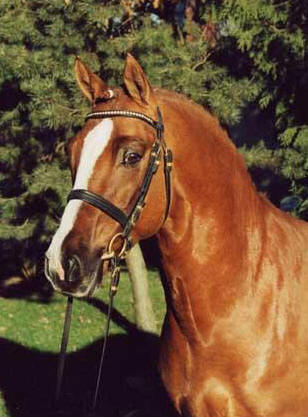 Click for video link
If you are looking for quality that runs deep, Don't Worry
*************************************************************************
Lucrative Perk
Putra Sandhurst
16.1hh D.O.B 1998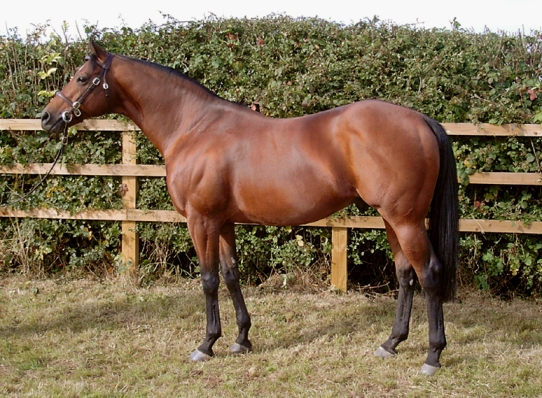 Royal Academy
Nijinsky
Northern Dancer

Flaming Page

Crimson Saint

Crimson Satan

Bolero Rose

Kharimata

Kahyasi
Ile De Bourbon

Kadissya

Khariyda

Shakapour

Khalida
Putra Sandhurst is a Thoroughbred Stallion with exciting bloodlines, graded with the SHB(GB) we will update with more details very shortly.
*************************************************************************
Pippin - unfortunately Pippin has aborted her foal and has been returned back to her owner.
Johnny
14.2hh D.O.B 2005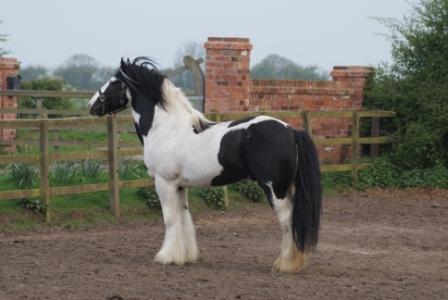 We were very lucky to be able to "borrow" Johnny to cover Pippin, he is a very smart tradional cob owned by Mr Deakin. He stayed with us for a few days and was the most superbly mannered stallion and fitted in at our yard like he had always lived here!!!!
We have been lucky to purchase a youngster by him who we hope to use next season he can be found on our Youngstock pages - "Jimmy". Unfortunately we do not know his breeding.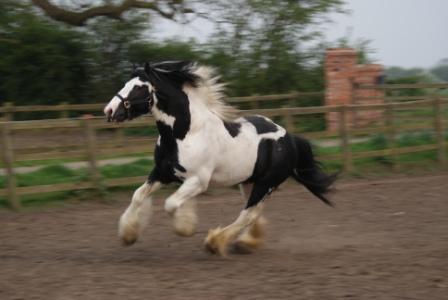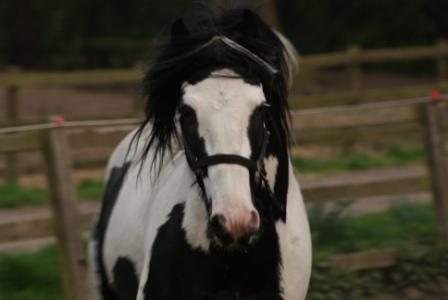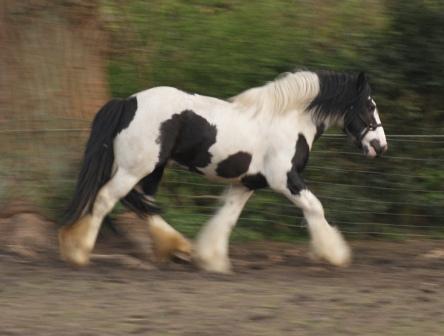 ***********************************************************************