Rotherwood Top Of The Pops
"Pops"
Welsh Part Bred, 13hh, Bay, born 2004.
Graded Preliminary Stud Book Status Sports Pony Stud Book.
Sire: Rotherwood Peter Pan
Dam: Rotherwood Gazelle (Solway North Wind)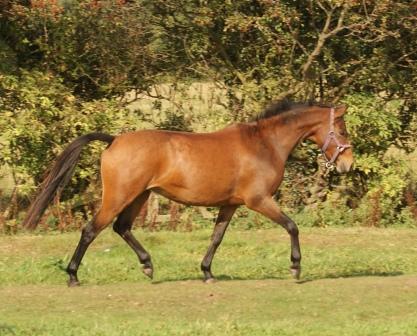 Rotherwood Peter Pan
Westacre Concerto
Keston Royal Occasion

Tywlands Crescendo

Katies Dream

Keston Royal Occasion

Rotherwood Destiny

Rotherwood Gazelle
Solway North Wind
Bwlch Zephyr

Tara IV

Trellech Giszelle
Bwlch Hill Wind

Leighon Gertrude
Pops was bred by Mrs E Mansfield-Parnell of the world famous Rotherwood Stud who has bred the most fabulous ponies which have been exported all over the world. Anyone who knows ponies admires and respects this stud as one of the best.
We are hoping to utilise this superb bloodlines within our breeding programme and possibly show Pops next season in hand.
She has no show record at present although is backed to ride, but with such lovely conformation, temperament and type we hope she can prove herself in the showring as well as produce some quality foals.
We will update photos and results in due course.......