"Mona"
14hh Bay Mare
Deutsches Reitpony
Dam: St.Pr.St. Reviera
Sire: Matcho
D.O.B: 8th April 1990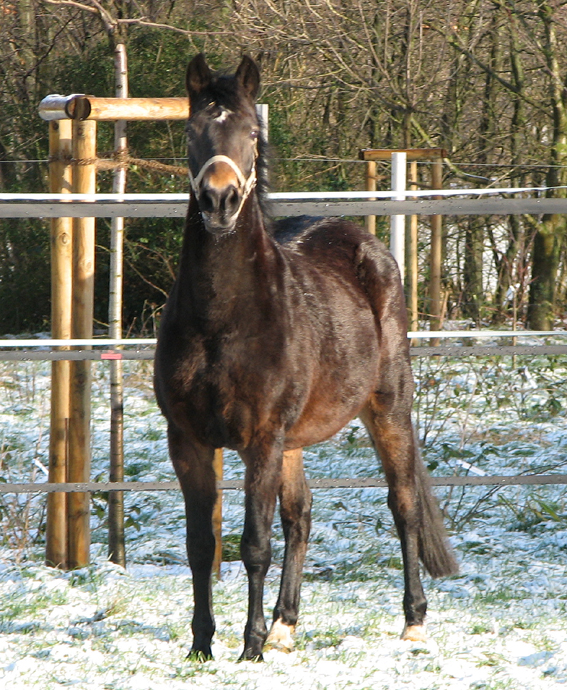 Matcho
Merlan
Merafic ox

Ilona

Lucie
Leopold

Nessa

St. Pr. Reviera
Silvertop's Ricco
Catherston Red Gold

Rhoslan Lively Lady

Nevada
Nazim

Yvonne
"Mona is now 18 years old. She's Verbandspremium in Westphalia (by Matcho
(not the Angloarab) - Silvertop's Ricco - Nazim - York) and has produced at
least 3 licensed stallions, among them the licensing champion in Rhineland
1998 or 99, Padparadscha."
We purchased Mona as a brood mare from Sabine Meiners of the Hilkens Stud in Germany. We have now scanned her in foal to Casino Royale the 3 year old stallion winner of the Bundeschampionate 2008 and mum and baby have arrived safely in England.
She was awarded a Silver Medal in 1992 and 1993 from the Westfalisches Pferdestammbuch and then the Rheinisches Pferdestammbuch of Germany. She has been inspected by the Rheinischen Pferdestammbuches and entered in the Hauptstutbuch and also by the Pferdestammbuches Weser-Ems and entered in the Stutbuch I. She is now Graded into the Head Stud Book of the SPSS in Great Britain.
She will be used as a brood mare with us and hopefully produce us some more fabulous foals.
Her 2008 foal Hilkens Mighty Gold has proved herself already in the ring and her 2009 colt foal Bathleyhills Classique Monet we intend to keep entire and use as a future stallion, this we are very excited about. He has already been through the BEF Futurity scheme in 2009 gaining a high first premium, and 4th place overall at the Arena UK Venue of the BEF.
We have presented Mona at the SPSS Annual Show in 2008 & 2009, her temperament scores have been superb gaining a 10 and a 9.5 for General Impression On the Day with comments such as a lovely feminine type mare.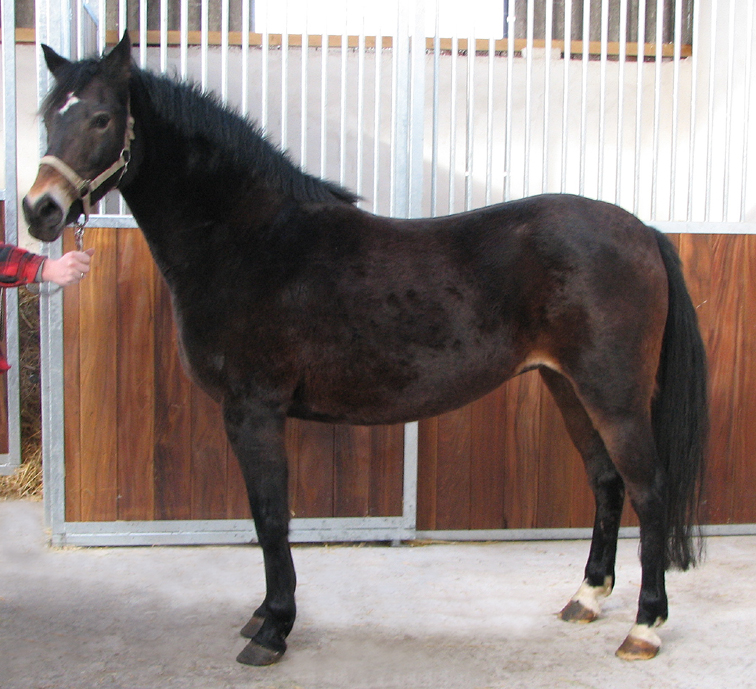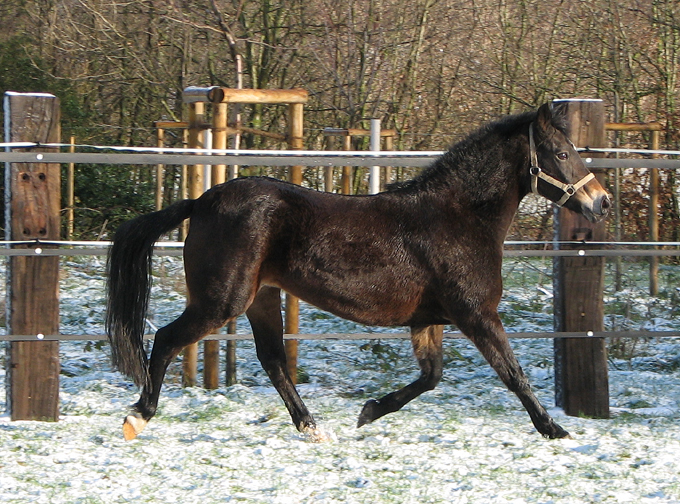 Mona has a filly foal at foot by Joldis Charmont who is by the well known Champion De Luxe, she was born on the 9th April 2008 at 11.15pm. Sabine has named her Goldie, we have renamed her "Irene".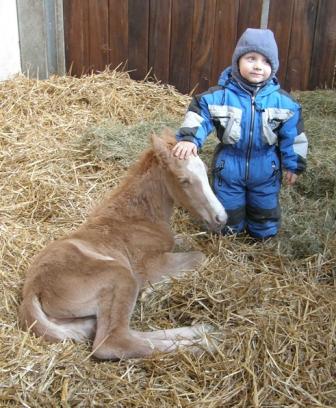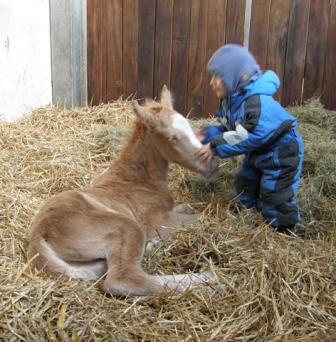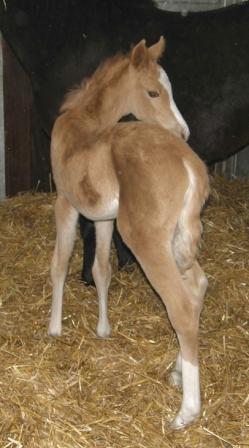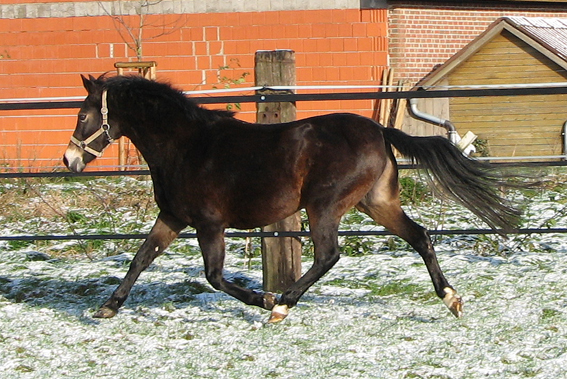 ******************************************************************************
Competition Results.....
SPSS Mare Grading and Show 10th October 2009
4th - Mare Likely to produce a sport pony foal (87.00%)
SPSS Mare Grading and Show 18th October 2008
2nd - Mare Likely to produce a sport pony foal (85.4%)
******************************************************************************
Progeny......... Click on photo for details
This is a list of the foals she has from the Verband.
P206 Zuchtbuch Nachkommenleistung 10.03.08 12.22.32 Seite 1
41 <-VB ===========================================RLNCIPF ==OPID:P77==TSPLW77
S DE 341420885990 H 8 Mona Bd 0011 SF 0002 Stp 000 HF 0007 gek 002
. .. ..
Nr S Lnr Nachkommen Geb. Name d.Nachk. Ras Far Vb A TuJa <---- von ----->
1 43 H DE 343438137194 0804 P Pablo N 60 22 41 2003 P FS Pavarotti
2 43 H DE 343430448395 0404 Pacco N 60 22 2005 P FS Pavarotti
3 43 H DE 343431075896 2804 P Padparadscha 60 30 43 1999 P FS Pavarotti
4 43 H DE 343431194197 1205 60 29 P FS Pavarotti
5 43 S DE 343431776198 1305 H Pamina N 60 30 43 P FS Pavarotti
6 43 H DE 343431801499 1005 Darius 60 10 FN P FS Don't Wor
7 43 W DE 443430273101 1105 Didgeridoo 60 20 2004 P FS Don't Wor
8 43 H DE 443430501703 2803 60 22 P FS Maracaibo
9 43 S DE 443430338705 1904 60 10 P FS Champion
10 35 DE 435350300708 P Joldis Charm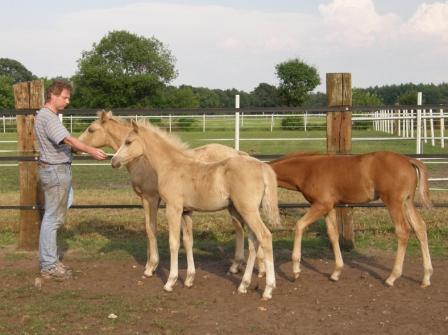 Hilkens Mighty Gold "Irene" - 9th April 2008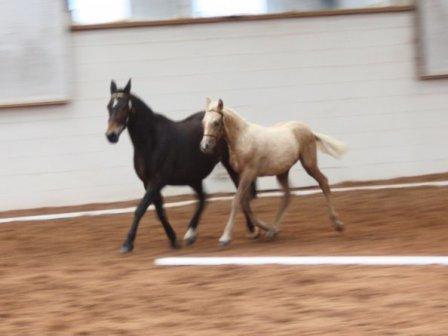 Bathleyhills Monet "John" - 31st May 2009
**********************************************************************