"Bathleyhills Monet" - aka John
Graded SPSS/Licensed Palomino Society
Registered Part Bred Welsh - 20.3125%
Registered Part Bred Arab - 26.98%
ALL PROGENY ELIGIBLE FOR THE BATHLEY HILL STUD AWARD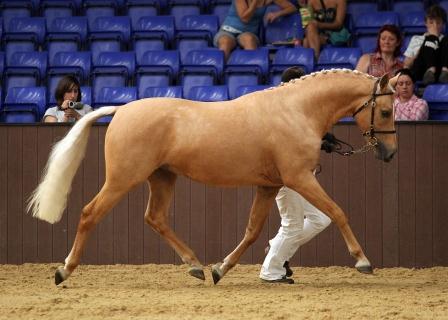 SPSS MERIT AWARD - LEADING SPORTS PONY STALLION BEF 2012
HIGHEST STALLION OVER ALL BEF 2012 AND 2013 FOR FRAME & BUILD -(DRESSAGE 9.09 - ALL DISCIPLINES - 9.03)
RESERVE CHAMPION STALLION - SPSS GRADING 2011
BATHLEYHILLS MONET RECEIVES ELITE STATUS BEF 2010!!!
BATHLEYHILLS MONET SECOND CROP OF FOALS (2013) GAINS YET ANOTHER ELITE, NUMEROUS HIGHER FIRSTS AND FIRST PREMIUMS. HIGHEST PONY STALLION 2013.
BATHLEYHILLS MONET'S FIRST CROP OF FOALS (2012) GAINS 1 ELITE, 5 HIGHER FIRSTS AND 1 FIRST PREMIUM - AVERAGE SCORE OF 8.83 - HIGHEST DRESSAGE PONY STALLION OVER ALL YEARS ON AVERAGE SCORES AND 11TH STALLION OVERALL YEARS
INVITED TO THE BEF EQUINE BRIDGE VIEWING DAY 2013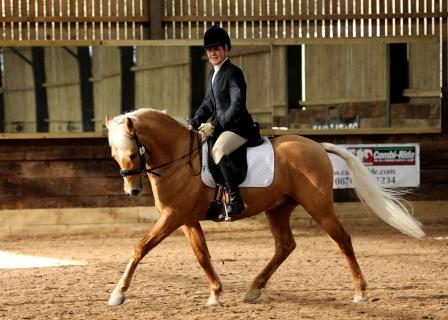 Registered Weser-ems to make approx 148cms
Graded Stallion - SPSS
Licensed - Palomino Society
D.O.B. 30th May 2009
Dam: Mona (Matcho)
Sire: Casino Royale K (FS Champion De Luxe)
Breeder: S Meiners
Casino Royale K
Bundespramie FS Champion de Luxe
FS Cocky Dundee

St Pr Hauptstutbuch FS Golden Fleur

Raffaela K
Top Nonstop

Rosepark Prelude

Stutbuch I Mona
Matcho
Merlan

Hauptstutbuch Lucie

St Pr Hauptstutbuch Reviera
Silvertop's Ricco

E Hauptstutbuch Nevada
John's Sire is the German Reitpony Casino Royale K who was Champion Stallion at his Licensing and the winner of the Bundesmanchampionate for two years running in Germany. Casino Royale K started his International Pony Dressage Career in 2011 and was 4th at Babenhhausen.
Casino Royale K's Sire FS Champion De Luxe was also a double Bundeschampion and Champion at his license and performance testing.
His Dam St. Pr. St. Raffaela K was also a Champion Weser-ems mare in 2000 and the Winner of the Elite Mare Show in Vechta. Her Dam Elite Rosepark Prelude was the Dam of Basalt K who won Team Silver at the 2006 Pony European Dressage Championships.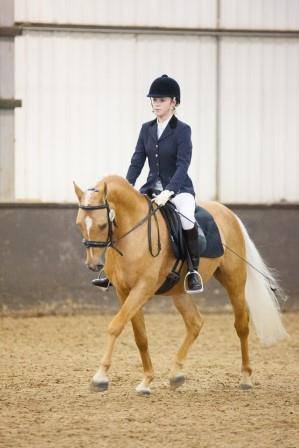 John's Dam Mona was a Premium graded Westfalen mare who was awarded Silver Medals in 1992 and 1993. She produced at least 3 licensed stallions including a Licensing Champion before we imported her into the UK, having bought her before her previous foal Hilkens Mighty Gold was born, (who we also purchased and she was imported as a foal at foot) and had Mona put back in foal for us whilst she was still in Germany, and this produced John. Mona was also awarded Head Stud Book Status SPSS and Leading Sports Pony Dam 2010 BEF. We were completely devastated to lose her foaling in 2010, however we were fortunate to hand rear her last foal Bathleyhills Mondial aka Arthur.
Mona's Dam Reviera is a daughter of Silvertop's Ricco, a graded son of the British Riding Pony Catherston Red Gold who has had a huge important influence in German Riding Pony Breeding.
Her Sire Matcho is a German Riding Pony with Arab ancestry through the Grandsire Merafic, who was a Part Bred Arab. His Dam line is completely bred in the purple with the huge classic names appearing, including Downland Chevalier, Solway Master Bronze and Bwlch Valentino.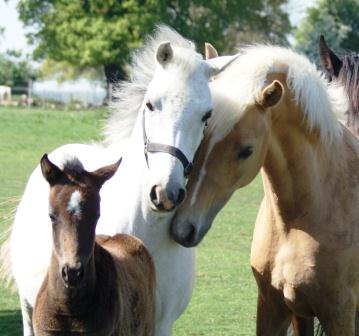 John himself has stunned the judges and wowed audiences with all the presence and movement he shows but alongside all of this he has the most fabulous temperament, with manners to burn. One judge quoted his movement was stunning, she could watch him all day!!!!!
John gained a premium when inspected by the Oldenburg society as a foal on their visit to the UK. The inspector asked to continue showing him round the arena loose as he was so impressed with his movement saying he was wonderful!!!! A very proud moment for us. He is now inspected and branded a Weser-ems pony.
As a yearling he was inspected by the German Studbook ZfDp and invited back for stallion assessment, we have however at present waited for him to mature and will present him in the future when he is backed and ridden on.
Johns first crop of foals have proved just what a stock getter he is and he has stamped all his stock perfectly with his movement and conformation. Their results have shown in the BEF with an Elite, and finishing on his average scores of 8.83 the Highest Placed Dressage Pony Stallion overall years.
We have just started John under saddle and he has proved just what a fabulous temperament he has so we are looking forward to presenting him into the dressage arena after bringing him on slowly and quietly over his first year under saddle.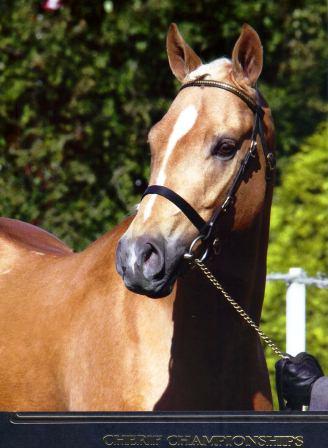 ***********************************************************************
| | |
| --- | --- |
| Click on any photo for more details or video | |
| Johns Results | Johns Gallery from a foal |
| | www.greenlees-photography.com |
| Johns Gallery under saddle | Bathley Hill Farm Stud Awards |
| | |
| SPSS Grading 2011 | BEF Futurity 2009 |
| | |
| Johns Progeny | |
| Foal Gallery | Foal Results |
| | |
| | |
| Johns Parentage | |
| Johns Dam - Mona | Johns Sire - Casino Royale K |
| | |

WPCS