Foals born 2008
DATE BORN MARE IN FOAL TO
14th March 2008 Silver Fabian
15th May 2008 Molly Thistledown Copper Lustre
12th May 2008 Doris Acado
8th June 2008 Violet Top Yellow
10th June 2008 Swallow Chateau De Brion
***********************************************************************
Silver -
Fabian - Netherlands New Forest Pony
Standing at Meadow Stud
148cms D.O.B 22/5/2001
Graded: SPSS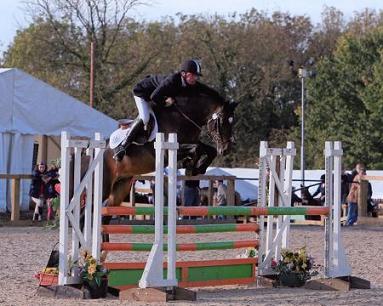 Link to Meadow Stud
Fabian is an outstanding sports pony stallion and is breed from the best competition lines. In 2005 he was graded with the SPSS, gaining superb marks throughout, but especially good scores for type conformation and jumping under saddle.
Fabian is currently competing in showjumping and jumping double clears at both Newcomers and Foxhunter Level. His sucess includes many wins and placings at prestigious shows such as the Scope Festival, HPI Cavan/IRE. He also qualified for HOYS and won the Regional Final at Bicton being the only pony to jump a treble clear. He has the ability and scope to become a top class show jumping pony of the future.
Kantje's Ronaldo
Watershof Pretendent
Oosthoek's Sportsman

Piperswaite Stardust

Wiske Barbara
Merrie Moscan

Ashurst My Baby II

Kantje's Rezie
Marnehoeve's Everest
Anydale Nico

Eliza

Karmalita Sunny Susanna
Carlo

Karmalita
Fabians sire Kantje's Ronaldo has amongst others sired 9 offspring currently competing at International Level. Four of which have competed at European Championship Level.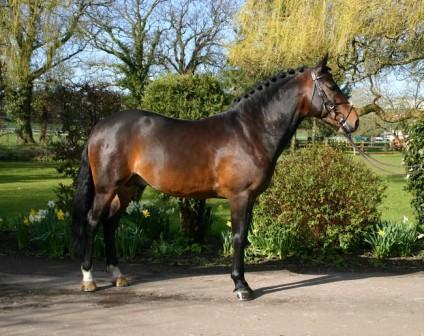 Alongside his ability to breed top class quality sports, Fabian also has the most outstanding temperament, which makes him our ideal choice of stallion.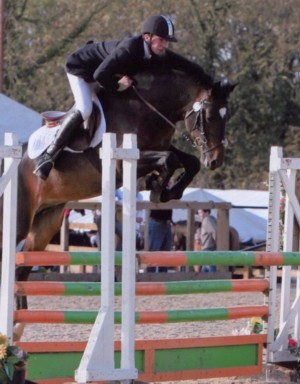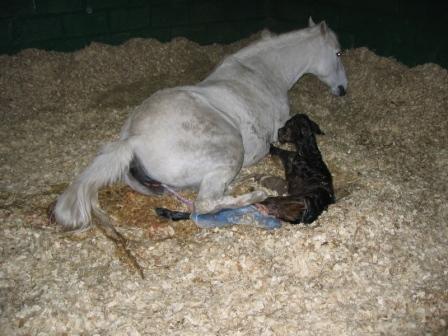 Click picture for Sally our foal by Fabian
***********************************************************************
Doris -
Acado
Standing at Lostock Stud
Homozygous
14hh D.O.B 2004
Graded with CHAPS UK and the Sports Pony Studbook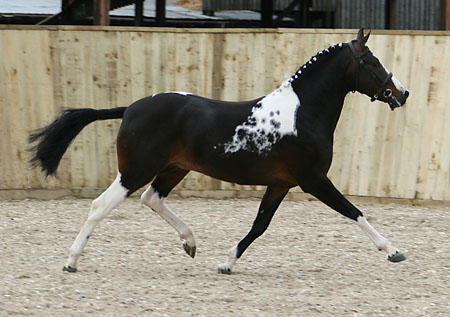 Click to Lostock Stud
Acamani
Agnus Dei
Albano

Hauptstutbuch Lolli

St. Pr. Hauptstutbuch Grendy
Grant B 468

Haupstutbuch Kessi 484

Verb. Pr. Hauptstutbuch Zuchtbuch: Lewitzer Beauty
Greenhorn

Graveur B 76

Hauptstutbuch Lydia

Haupstutbuch Brock Ballerina
Katric Caspers

Brock Bridie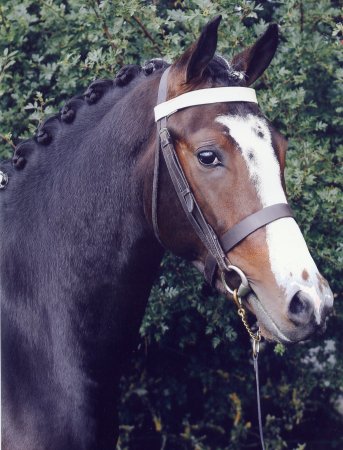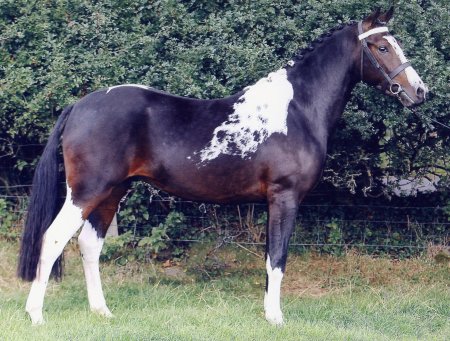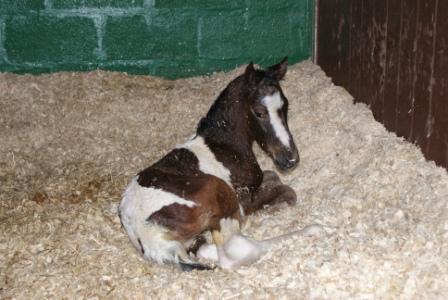 Click for Dorothy our foal by Acado
***********************************************************************
Violet -
Top Yellow - Westfalian
Standing at Wood Family Stud
148cms D.O.B 2/5/1993
Graded: SPSS(elite)
Breeder: Johan Hinnemann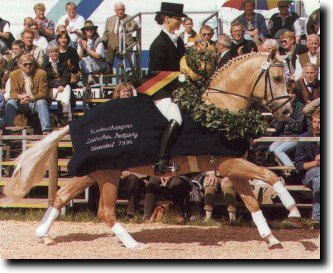 Link to Wood Family Stud

Till the Champ
Rosedale Tiberius
Tanlan Julius Caesar

Arctic Pearl of Rosedale

Konsequenz
Kinsholme Robin

Freundin

Kaprice
Kirby Cane
Kirby Cane Sundog

Kirby Cane Bracelet

Gescha
Gromet

El Leila
Top Yellow is Europeís most famous pony Stallion. Bred and produced by the noted Dressage trainer Johann Hinnemann, Top Yellow holds the record for the highest score ever awarded to an approved pony stallion, 21 points ahead of the number 2.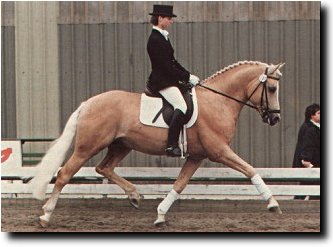 This exquisite pony received no score under an 8.5 and even achieved a 9.5 for walk an 8.5 for trot and a 9.0 on canter proving him to be a talented pony for potential breeding success. Top Yellow won the bundeschampionate (championship for young pony stallions) in 1996 and 1997 and quickly became the one to watch. In 1998 under European champion Delphine Meiresonne, Top Yellow began his FEI career. In that year they became Guelders champion at elementary level in Holland before dominating the Dutch pony riderís scene. He shone at CDI-P Hagen when he won the consolation test. In 2000 Top Yellow was sold to Austria where he competed up to national level. He now stands in the U.K and has competed at pony FEI and at Medium level gaining scores under Samantha Wood of over 70% proving he is a talented palomino stallion and a great friend.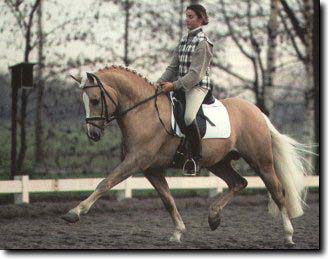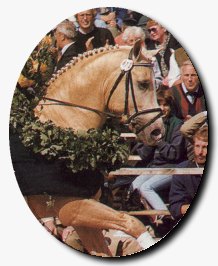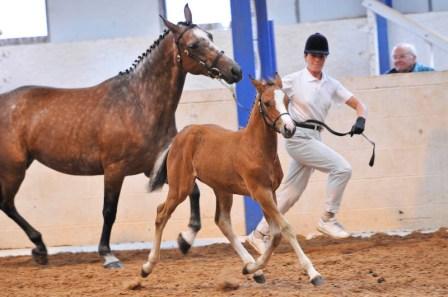 Click for Janet our foal by Top Yellow
***********************************************************************
Swallow
Chateau De Brion - Holstein
Standing at Quainton Stud
168cms D.O.B 18/05/02
Licensed and approved by Holsteiner Verband (April 07)
Premium Graded (70 day test in Germany)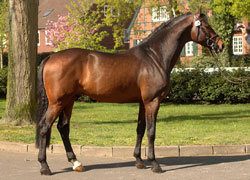 Link to Quainton Stud
At the Southern Elite Auction 2007 Chateau de Brion Quainton foal sold for the highest amount at the auction
Chateau de Brion was licensed as a Holstein stallion in April 2007 at Holsteiner Verband (Germany). He is also 70 day tested, Marbach 2005 and is a licensed and approved stallion for life. He was leased to the German State Stud for 2006 where he proved to be very popular. Chateau de Brion is now in Great Britain training and competing with International Show Jumper Ben Maher who says "He has a perfect jumping technique, combined with fantastic balance and he is ultra careful".
Chateau de Brion was the Sire of the highest priced foal in the Southern German Elite Foal Auction (Ä22,000) in 2007. His 2007 jumping wins and Intrnational high placings include the 5 year Old Championships at Towerlands Masters FEI and Arezzo Italy. Chateau de Brion also collected numerous wins N/C, Fox, Grade Cís in 2007.
Chateau de Brion is a rare Cassini I offspring, as most Cassini I offspring are grey and heavy like their father, Chateau de Brion however is lighter in type and bay in colour. He is more thoroughbred in type (which makes him faster and nimble), this is exactly what the German breeding associations are trying to breed and call a "modern type" of horse.
At Chateau de Brion's Holsteiner Verband grading in April 2007 he was one of only seven stallions to be permitted to be graded, he was the only British owned holstein stallion and he scored a very impressive 8.00 for his jumping.
It is an incredible opportunity to have this type of stallion in the UK and available at stud to British mares. Ben Maher and Chateau de Brion are extremely well suited and already achieving great successes across Europe, there are no plans to break up this golden team.
Cassini I (sire to Chateau de Brion) offspring is much sort after and in high demand. Two Cassini I sons Cumano and Berlin won gold medals at the World Equestrian Games in 2006, this is symbolic of the success of his progeny.
With a top stamm line Chateau de Brion could be a foundation horse in any breeders stable. When he was presented at the German State Stud on the 4th and 5th February 2006 he was leased to them in Landgestut, Moritzburg and was available for natural coverings. Chateau de Brion was so popular that they requested him for their 2007 season. He was also previously presented at the 2005 Munich stallion grading and also at the Stallion presentation 2006 Moritzburg.
Cassini I
Capitol I
Capitano

Folia

Wisma
Caletto II

Prisma

Accola
Caribo
Calypso II

Harlita

Selika
Livorno

Hellas
Bloodlines In Detail -
Click for more details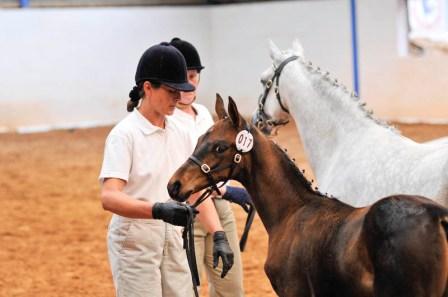 Click for Katie our foal by Chateau De Brion
**********************************************************************