"Langwedh Sunny Jim" - "Little Jim"
Welsh Section B
Licensed WPCS/Palomino Society
ALL PROGENY ELIGIBLE FOR THE BATHLEY HILL STUD AWARD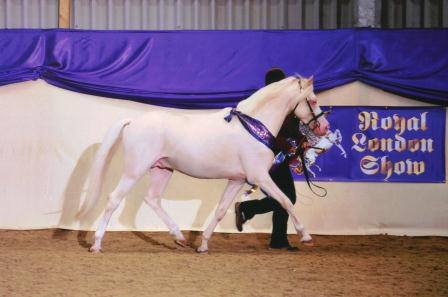 LITTLE JIM'S FIRST FOAL, AMONGST OTHER RESULTS, GAINS -
ELITE BEF 2012 - HIGHEST SPORTS PONY EVENT FOAL (3RD FOAL OVERALL BEF FINAL EVENTING CHAMPIONSHIP SHOW)
CHAMPION HUNTER FOAL - NCPA PONY OF THE YEAR 2012
2 X RESERVE CHAMPIONSHIPS - THE BRITISH NATIONAL FOAL OF THE YEAR 2012.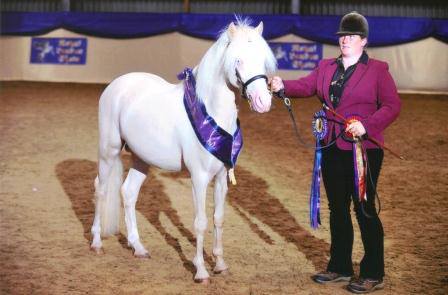 Dam: Bejowans Sunrise
Sire: Kalevans Mystic Pride
Mature approx 130cms
D.O.B - 21st April 2008
Cremello (Coated Tested - Red/Black: ee, Agouti: Aa, Cream: CrCr)
Breeder - Miss N Budd
Kalevans Mystic Pride
Cottrell Artiste
Rotherwood State Occasion
Downland Almond

Kalevan Golden Knot

Aston Love Knot
Elphicks Half Moon
Bejowans Sunrise
Ernford Bonanza
Sunbridge Alicante
Ernford Brocade
Bejowans Sunflower
Hillenvale Manikin
Colne Sunmist
http://www.allbreedpedigree.com/langwedh+sunny+jim
We purchased Jim direct from his breeder - Langwedh Stud in January 2011 purposely for his Bloodlines which contain the most fantastic lines of Rotherwood, Keston, Downland, Solway, Kirby Cane and Bunbury to name just a few.
He was all that we hoped for when he arrived, having the most fabulous movement, a super compact, short coupled little colt with superb movement. He will cross well with any type of mare with his conformation. To top it all he is coat tested positive for the Cremello Gene giving dilute colours in his foals.
Jim has the most fantastic temperament and has fitted in at our yard like he has always been here!!!!
His Sire Kalevans Mystic Pride is a great producer of successful County Level ponies and his Dam Bejowans Sunrise is a proven lead rein pony also at County Level.
Jim was shown and highly placed at County Level before coming to us, we have only lightly shown him due to lack of time but are hoping to get him out more in 2013.
Jim has only one foal on the ground up to now but wow how successful she has been in 2012 as a foal she was Graded Elite with the BEF, and also Champion Hunter Foal at the NCPA Pony Of The Year Show, alongside numerous other results. We are looking forward to hearing all her progress, her full results are in a link below.
| | |
| --- | --- |
| Click on any photo for more details | |
| Little Jims Results | Little Jims Gallery from a foal |
| | |
| | Bathley Hill Farm Stud Awards |
| | |
| Little Jims Progeny | |
| Foal Gallery | Foal Results |
| | |
| Little Jims Parentage | |
| Little Jims Dam - Bejowans Sunrise | Little Jims Sire: Kalevans Mystic Pride |
| | |
| | |

WPCS